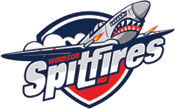 We're Helping Keep the Boys Healthy!
We're very pleased to have been selected by our local OHL hockey team,
The Windsor Spitfires
as their "Preferred Equipment Cleaners". The Spitfires are now wearing equipment that has been thoroughly cleaned, disinfected and refreshed using the Esporta Wash System.
---
What's the Problem?
The rotten smell often associated with sports equipment and clothing is caused by a combination of sweat, mucus, blood, dirt and other substances such as sports drinks that have soaked into the equipment.

This combination of proteins and organic matter provides an ideal breeding ground for the growth of odour-causing mould, fungus and bacteria. These are three contaminants that pose a direct health threat to players because they can enter the body through cuts or abrasions and cause serious infection.
Lab Reports Confirm - It's Unhealthy!
Laboratory examinations of sports equipment have identified Staphylococcus Aureus, Staphylococcus Epidermidis, Streptococcus Viridans, Streptococcus Faecalis, Enterics, Coliform, yeast, fungus and mould. In fact, The Center for Disease Control (CDC) in the US has issued new recommendations for schools to routinely clean sports equipment in response to outbreaks of infectious MRSA. This form of Staphylococcus Aureus is easily transmitted via towels, sports equipment and direct contact. Professional athletes in both football and hockey have been hospitalized with bacterial infections. The recent death from MRSA of a collegiate all-star football player confirms the seriousness of this health threat.
The Parker Solution - Esporta Wash System
Here, at Parker Sport & Gear Cleaning, we employ the equipment and proven cleaning process developed by Esporta Wash Systems Inc., the world leader in sports equipment cleaning. The Esporta Wash System utilizes specially formulated detergents and disinfectants to work deep into the equipment to remove bacteria, mould and fungus that cause the health threat to the player. This water-based system is clinically proven to kill these contaminants and ensure the highest level of hygiene and safety for the athletes.
We'll Keep "Gamey" Out of Your Game!
The Esporta Wash System can professionally clean equipment used in football, baseball, hockey, lacrosse, wrestling, field hockey and many more sports. It successfully cleans helmets, shoulder pads, elbow pads, footwear, knee and shin pads, skates, gloves - virtually any protective equipment used by athletes can be successfully cleaned, disinfected and freshened here.
Size Matters - As well as Capacity
Our unit's 360 lb washing capacity accommodates the conventional cleaning of towels, jerseys and other sports laundry needs. You can even wash the team mascot's costume using this amazing system.
This system is configured to provide fast, reliable service.
With this system in place, we can easily clean, disinfect and freshen a team's sports equipment and gear overnight and have it ready for tomorrow's game or practice.